Are you considering a direct mail campaign for your business and wondering if it's worth the investment?
Even with the wide range of digital advertising platforms, the benefits of direct mail marketing make it an appealing and extremely viable option.
Direct mail boasts better response rates, greater visibility, and more creative opportunities than online efforts, so it should be a key component of any marketing campaign.
In this helpful explainer, we'll outline 12 benefits of direct mail marketing that can boost your campaigns and help you exceed your goals!
12 Benefits of Direct Mail Marketing
1. Great Response Rates
Direct mail has always been a leader in response rates when compared to other marketing methods, and has only improved in recent years.
Response rates are 9% for house lists—those previously engaged with a brand—and about 5% for prospects, reports a study by the marketing and advertising trade association Association of National Advertisers (ANA), formerly DMA.
Statistics show that marketing emails, by comparison, have an average click rate of 1.33% across industries.
Many factors contribute to these spikes, one being personalization. Customization at scale has improved dramatically in recent years and can increase response rates for Direct Mail by a factor of 10 or more.
2. Recipients Open & Read Direct Mail
Imagine walking out to your mailbox and bringing inside a stack of mail. Do you immediately throw it all into the trash, or do you scan it to see what you received? If you peruse or read through each piece, you're not alone.
Forty-one percent of people aged 45 to 54 read their mail, while nearly half (47%) of people aged 65 and over do. This daily ritual of bringing in and reading the mail each day is what the U.S. Postal Service (USPS) dubs the "Mail Moment," and it's only become more prevalent with more people working from home.
3. Direct Mail Is Tangible & Personal
Many people want to receive mailed marketing messages.
Eighty-two percent of Americans said they trusted newspapers and magazine ads more than online advertising.
This underscores the appeal of tangible marketing messages as opposed to those delivered online.
Additionally, interactive mail pieces with embedded QR codes, 3D structures, augmented reality (AR) capabilities, and other interactive tools continue to push into new realms of personalization and value.
4. Familiar & Builds Trust
Direct mail has been around for many years, and is impervious to the drawbacks of digital advertising.
For instance, you can't infect someone's computer or home with a direct mail letter. A seedy digital ad? That's a different story.
The familiarity of direct mail is one of its greatest assets. It creates a sense of security and trustworthiness that resonates with many consumers, especially seniors and those unfamiliar with technology.
5. Highly Targeted
Direct mail enables marketers to define and target their ideal personas more accurately than ever before.
By tailoring efforts to professions, purchasing preferences, demographics, and other characteristics, marketers can deliver more targeted, relevant campaigns.
6. Personalization
Today's consumers not only desire personalization, but expect it.
More than three-quarters (76%) of people feel "frustrated" when companies don't personalize, finds the "Next in Personalization 2021 Report" from global management consulting firm McKinsey & Company. Rapidly growing organizations also garner 40% of more revenue from personalization, compared to their slower-growing counterparts, the report adds.
Cutting-edge printing innovations such as the HP PageWide Web Press T250 HD have expanded personalization options even further, so everyone can receive a unique piece of mail.
Its HP High Definition Nozzle Architecture (HDNA) showcases color, smooth skin tones, and shadows like never before to offer the highest-caliber print quality and color capacity on the market. Its aqueous post-coating protects designs with a sleek sheen, all at speeds of 500 fpm in performance mode and 250 fpm quality mode.
No customization is off-limits, from creative to copy.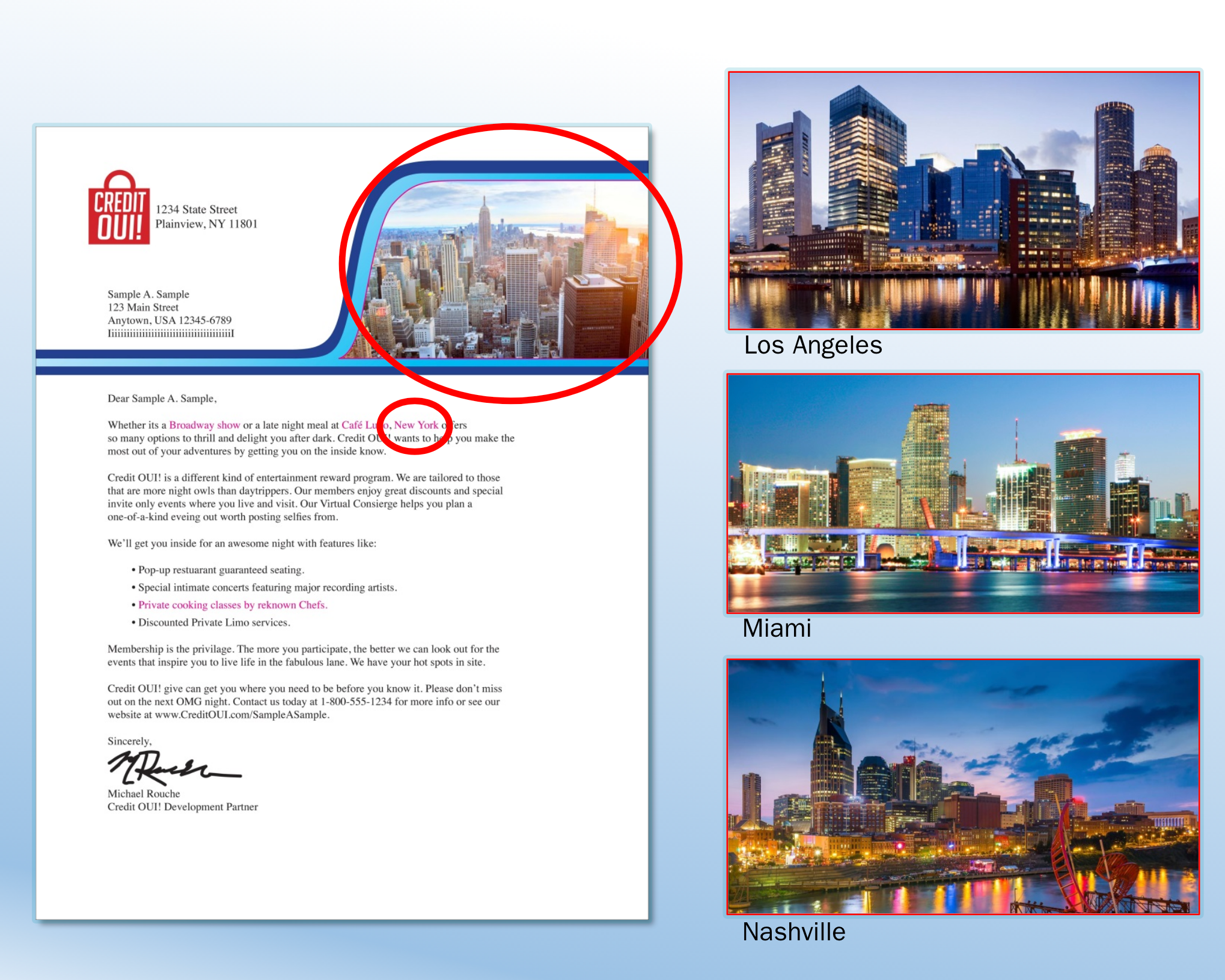 Personalization can include photos of a hometown instead of a city on the other side of the country.
In the past, each design required an operator to manually input a new press configuration, which cost time and money.
Today, that process has gone digital, and presses such as the T250 adapt on the fly, reducing time-to-ship and increasing response rates.
7. Creative & Versatile
Mail offers nearly unlimited creative options, especially when compared to digital alternatives.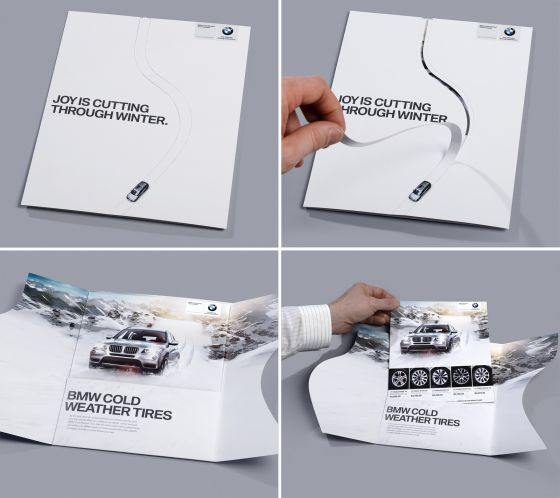 This BMW mailer requires recipients to tear along the shape of a road to access the ad inside.
Textured varnishes and finishes, near field communication (NFC) capabilities, or even scented mail pieces creatively draw prospect interest in unprecedented ways.
These unique innovations capture attention and delight users like never before, while delivering your marketing message.
8. Simple & Efficient
While targeted, personalized, and interactive pieces might seem complicated, the latest technology makes these campaigns easier than ever to execute.
Innovations such as the T250 can seamlessly transition between offset coated, uncoated, and inkjet-treated paper without ever breaking the production cycle.
Plus, its expanded press configuration supports 40-250 gsm and up to 10 pt for best-in-class efficiency, results, and return on investment (ROI).
9. Cost Effective
Along with its simple execution, direct mail is also cost effective.
While it already garners impressive response rates and ROI compared to digital ads, recent advancements are driving engagement and brand recall even higher.
Unlike digital campaigns that require a large investment to garner ROI, direct mail works well with even a small contact list.
Get a free quote from Design Distributors today.
10. Highly Trackable
To ensure your campaign's success, it's important marketers set goals, track progress, and adjust strategies with time.
A variety of techniques help measure the performance of any direct mail campaign.
A variety of techniques help measure the performance of any direct mail campaign.
Via a Website
Custom landing pages and listing a URL on your mail pieces help track web traffic. You can also create a custom personalized URL (PURL) that redirects to an existing page pre-populated with recipient data. PURLs make tracking much quicker and simpler, by identifying landing page hits and recipient actions.
Via Custom Phone Numbers
Utilizing unique phone numbers for your direct mail campaign enables you to forward and document calls to your current number. This helps determine which marketing methods yield the best results.
Via Exclusive Offers
Exclusive offers not only assist tracking, but make prospects feel valued. Send them via direct mail and track the number of submissions received for that particular deal.
11. Enables Consistent Fulfillment
Direct mail is much more consistent than online ads.
When you launch a direct mail campaign, you'll have a reasonably accurate idea of when demand will increase, and can prepare fulfillment accordingly.
Alternatively, you never know when online ads will become more popular, spike demand, and overwhelm fulfillment as a result.
Direct marketing won't eliminate uncertainty altogether, but it can help combat it so you can seamlessly manage production and fulfillment.
12. Complements Digital Marketing
When strategically paired with digital marketing, direct mail is even more unstoppable.
It can be used in any stage of the marketing funnel to achieve the same goals as online ads.
For example, implement QR codes into your mailers for recipients to scan and visit a webpage. Or, run an online branding campaign and follow up with a small group of ideal customers via direct mail. The possibilities are endless.
Whatever your goal, direct mail can work with your other marketing efforts to enhance overall performance, increase customer engagement, and improve your ROI.
---
Why Design Distributors?
By integrating direct mail into your marketing initiatives, you can harness unparalleled benefits in personalization, cost savings, response rates, and so much more.
At Design Distributors, our unique combination of industry expertise and cutting-edge technology helps marketers exceed their business goals with direct mail.
Offering unmatched printing, mailing, and fulfillment services, our one-stop shop is fully equipped to help you revolutionize your next campaign and maximize its benefits.
Contact us today to request a quote.