Friday Oct. 6th, the United States Postal Service filed notice with the Postal Regulatory Commission (PRC) of mailing services price changes would take effect Jan. 21, 2024. The new rates include a 2-cent increase in the price of a First-Class Mail Forever stamp, from 66 cents to 68 cents. This would be the 6th rate hike in the past 3 years.
The proposed adjustments, if approved by the governors of the Postal Service, would raise mailing services product prices approximately 2 percent. If favorably reviewed by the commission, the price changes would include: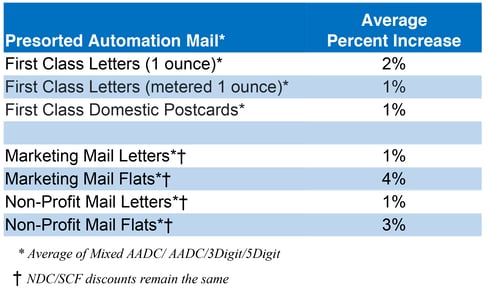 The rate changes impact all postal categories and products. Overall rates will increase by about 2%; however, core catalog products, such as Marketing Mail flats and Carrier Route flats, will be subject to an extra 2% surcharge.
Many of the price increase sectors can be offset by taking advantage of the USPS Promotions offered throughout the year. Each of these offers discounts that range from 2% to 4% depending on the program. In 2024, there are 6 programs you can take advantage of for your campaigns:
Tactile, Sensory and Interactive - Feb 1 through July 31
Personalized Color Transpromo - Feb 1 through July 31
Emerging Technology - 6mo. duration between Jan 1 and Dec 31
Reply Mail IMbA - July 1 through Dec 31
Informed Delivery - Aug 1 through Dec 31
Retargeting - Sept 1 through Nov 30
Each of these Promotions has a registration period in order to participate. Please ask one of our customer reps for information and if your campaign will qualify.
Design Distributors will have our Postal Rate Chart prepared ahead of the increase so you will have a great on-hand reference. The current Postal Rate Chart is available HERE which shows the approved prices as of July 2023. You can request a printed coated chart from there as well.
---
Why Design Distributors?
By integrating direct mail into your marketing initiatives, you can harness unparalleled benefits in personalization, cost savings, response rates, and so much more.
At Design Distributors, our unique combination of industry expertise and cutting-edge technology helps marketers exceed their business goals with direct mail.
Offering unmatched printing, mailing, and fulfillment services, our one-stop shop is fully equipped to help you revolutionize your next campaign and maximize its benefits.
Contact us today to request a quote.