Design Distributors proudly announces the addition of a new, cutting-edge, roll-fed finishing line by global post-press industry leader MBO America.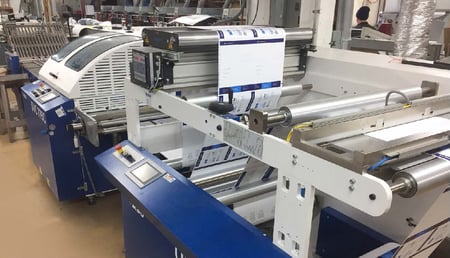 The new system includes an unwinder, sheeter, two buckle folders, and delivery components, all capable of running single or multiple products. It also facilitates higher volumes by increasing flexibility—fitting 30''-wide rolls as opposed to the previously limited capacity of 18''. With this upgrade, Design Distributors can now run 450,000 pieces through its finishing line per day, up from 150,000—a 300% improvement.
These high-speed capabilities supplement Design Distributors' state-of-the-art HP PageWide Web Press T240 HD thermal inkjet printer, the most advanced on the market today, providing unprecedented versatility and resolution at rates of up to 500 feet per minute.
"The existing finishing lines just weren't fast enough," says Mike Glanzman, VP of operations for Design Distributors. "We had to have the absolute fastest finishing equipment available. That meant MBO."
"It was a huge investment," he continues, "but the ROI has been incredible."
The acquisition of the HP T240 and MBO America finishing system reinforces Design Distributors' stature as one of the most innovative full-service printing and direct mailing operations in the country.
"There is very little we don't do here," says Design Distributors President Adam Avrick. "When you compare our equipment to our competitors, we are head and shoulders above the rest."
—————————————————————————————————————————

About Design Distributors
Design Distributors is a leading, full-service direct mail company, with capabilities including printing, fulfillment, and mailing. With more than 30 years in the industry, and powered by the latest direct mail printing technology, Design Distributors empowers brands and companies to create high-ROI direct mail campaigns and maximize marketing investment. Visit our website at www.designdistributors.com or contact us today to learn all we can do for you.

Click Here to View the Free White Paper and Learn More About Our HP T240 & MBO America Finishing Line