Industry leader Design Distributors proudly announces the next generation of printing/marketing communications with the addition of our HP T240 Digital Inkjet Web Press.
This state-of-the-art industrial press utilizing the very latest in cutting-edge technology is a true game changer, providing imaging and graphic design unparalleled in resolution and sheer detail, and a level of versatility simply unprecedented.
Among its extraordinary capabilities, the HP PageWide Web Press T240 HD provides greater opportunities for one-to-one communication with recipients through otherwise unheard-of personalization, saving a tremendous amount of time, money and resources.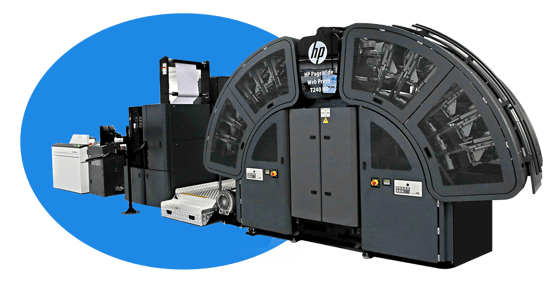 Now at Design Distributors, the T240 is appropriately priced to fit into your marketing plans. By bringing this technology in-house, we offer you the combination of true, one-to-one marketing because of its high-performance imaging, and at the same time, reduce cycle time, by combining the printing and personalization steps in the process.
This accessibility to the industry's latest technology provides your programs with the highest quality at the fastest production speeds.
Among the HP T240 Digital Inkjet Web Press' remarkable features:
Variable Data Printing for Personalized, One-to-One Communication
Change words and images on the fly or on-demand, without stopping printing, to create customized mail pieces that speak directly to recipients.
Customers Crave Connectivity
Today's consumers
demand
products, services, and shopping experiences specifically tailored to meet their individual lifestyles and needs. The HP PageWide Web Press T240 HD's supreme versatility makes such customized branding a reality.
Improved Quality & Efficiencies
No matter the size, volume or specifications of your direct mailing project or marketing campaign, this groundbreaking thermal inkjet provides easy, on-demand customization—
saving time, money and reducing waste
.
The T240 HD enables easy, expeditious adjustments, and eliminates associated delays. With unrivaled customization capabilities, exceptional color productivity, and speeds up to 500 feet per minute in performance mode and 250 feet per minute in quality mode, it truly is a break from the traditional printing press model. All this speed, at 2,400 nozzles per inch!
Extraordinary Results
The HP PageWide Web Press T240 HD helps you and your clients win the battle for attention at the mailbox. Design Distributors enables you to use fully variable direct mail pieces to increase response rates and improve ROI. This state-of-the-art technology can revolutionize your direct mail efforts by lowering cost, increasing response, and reducing cycle time. Personalized mail pieces increase response rates and improve ROI, while greater versatility and less setup and production times increase efficiencies, and ultimately, save money.
---
Design Distributors
Family owned and operated, with more than 50 years of experience, Design Distributors possesses the knowledge, skill set and vision to craft and execute exceptionalism within direct mail initiatives. The addition of the HP T240 Digital Inkjet Web Press signifies the latest innovation solidifying our legacy as the true industry leader. No matter the size or purpose of your direct mailing campaign, our team has the cutting-edge equipment and proven track record to achieve optimal results, each and every time.

Design Distributors, Inc.
300 Marcus Blvd. • Deer Park, NY 11729-4500
Phone: (631) 242-2000 • Fax: (631) 242-7367
Email: info@designdistributors.com