"What's there to tell? I'm in the lick 'em, stick 'em, stuff 'em and send 'em business."

Adam Avrick, president of Design Distributors, is somewhat of a reluctant interview subject. Though he can speak at length about his business and industry, he's quick to demur when pressed to talk about himself.

There's an impression that the world of direct marketing is antiquated or part of the "old" economy. To an extent, it's justified when placed in context with the rise of digital media. Closer examination, however, reveals an industry that is dynamic and teeming with innovation.

"I don't spend much time countering public perception of our business model," explains Avrick. "The fact of the matter is demand has increased in recent years and we've invested heavily in capital improvements to meet our clients' needs and provide innovative solutions."

To wit, Design Distributors recently added the state-of-the-art HP T240 Digital Inkjet Web Press to its already impressive arsenal of printing and fulfillment equipment.

"The T240 is remarkable," boasts Avrick. "First off, HP is a fantastic partner. They are so committed to our success, and this press in particular is like nothing the industry has seen before."

The speed and performance of the HP T240 has allowed Design Distributors to delve deeper into projects that require features such as personalization and on-demand customization.

"I know the big tech companies get all of the attention. But in our own quiet way, we keep pushing the envelope. Literally and figuratively, I suppose," laughs Avrick.
Back to the Beginning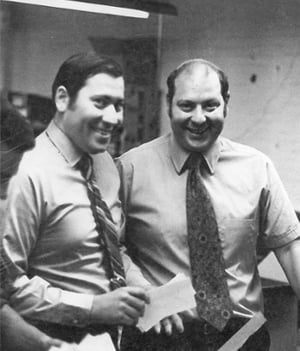 David (L) and Stuart Avrick
"My father Stuart and uncle David started in the envelope business back in 1966," says Avrick. "They're still very much a part of my life and the business today. They're the best advisers anyone could have, because they have such incredible experience and very different perspectives. I know how lucky I am that I still have access to them."
Adam Avrick joined the company as a young man and worked his way through each department. By the mid-1980s Avrick was in his late 20s and growing into a leadership role at the company.
"They let me participate in a critical decision process that would alter the direction of the business forever," recalls Avrick. "Instead of just making the envelopes, we were going to fill them as well."
The timing proved fortuitous for the Avrick family as direct mail marketing grew dramatically over the next couple of decades.
Direct marketing also satisfied a creative itch for Avrick, who has both a youthful quality and air of wisdom about him that makes it difficult to pinpoint his age.
"Chronologically I'm 55," he says, "I like to think of it more as an average. I have the experience of an 95-year-old, but my wife says I act like I'm 15."
While he admits managing the many moving parts of the business is still as fulfilling as it was in the early days, even with the load on his shoulders, Avrick makes sure that he takes the time daily to share his experience and expertise with clients. Using a consultative approach and marrying his many years of experience with the latest technology to create a dynamic approach to helping a client produce winning packages is one of his favorite parts of his job.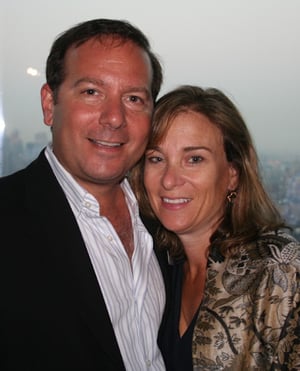 Adam Avrick and wife Karen
"The envelope business was successful but one-dimensional," explains Avrick. "Once we opened our minds to every moving part of direct mail marketing, it became an obsession for me."
Avrick projects a sense of calm and patience. He speaks quietly, but deliberately, and is self-effacing when the discussion turns to him. This outward demeanor belies an intense work ethic and competitive streak that is well-known among his employees. It's not uncommon for Avrick to begin his day before dawn and finish early evening. Nor is it uncommon to spot him chatting up pressmen or inspecting pallets of mailers amidst the roar and rumble of the machinery in Design Distributors' 70,000-square-foot Deer Park facility.
"That's my father's influence," says Avrick. "Honesty and integrity mattered the most to him and he always had a phenomenal work ethic. He instilled these qualities in me from an early age, well before I got into the business."
Looking Forward
Far from the humble origins of the envelope business in the Sixties, Design Distributors today is one of the largest full-service direct mail operations in the Northeast.
"Those who are resting on their laurels and not looking one, two, three steps ahead will get swallowed up by the competition in a moment's notice," warns Avrick.
To actually be "full-service" requires an ongoing commitment to capital improvements and technology, which has enabled Design Distributors to anticipate their clients' needs and fulfill an impressive array of orders.
"Many of our relationships go back years, and even decades," continues Avrick. "There's an inherent trust in our people that makes us more than just a vendor. We're creative partners, consultants and guides to so many of our clients."
"Being able to parse granular customer information is interesting, but it's useless if you don't put it to work." —Design Distributors CEO Adam Avrick

The HP T240 is another in a long line of investments Design Distributors has made over the years to stay ahead of the curve. Watching Avrick move throughout the facility and describe each piece of equipment while frequently stopping to compliment an employee or ask about a specific job is like witnessing a massive, choreographed dance.

"People like to talk about 'Big Data,' but few people really understand it," Avrick shouts above the hum of a press. "Well, you're looking at it," he says while waving his arm at several of the machines behind him.

"Being able to parse granular customer information is interesting, but it's useless if you don't put it to work," he continues. "Today, we send customized and personalized information to members of the same household. It's incredible. That's 'Big Data' at work."

The rumble of the production area suddenly mutes as we pass back through to the executive offices. With only a murmur of the machines now audible, Avrick's tone softens once again. As we make our way down the hallway, he turns slightly and says with a wry, knowing smile: "Told you. Not much to it. Just a simple lick 'em, stick 'em, stuff 'em and send 'em operation."

"There's a ton of high-quality competitors in our industry and the landscape is changing constantly," says Avrick. "There's no secret formula to our success. We work hard, we care about the work, and we're responsive to our clients."